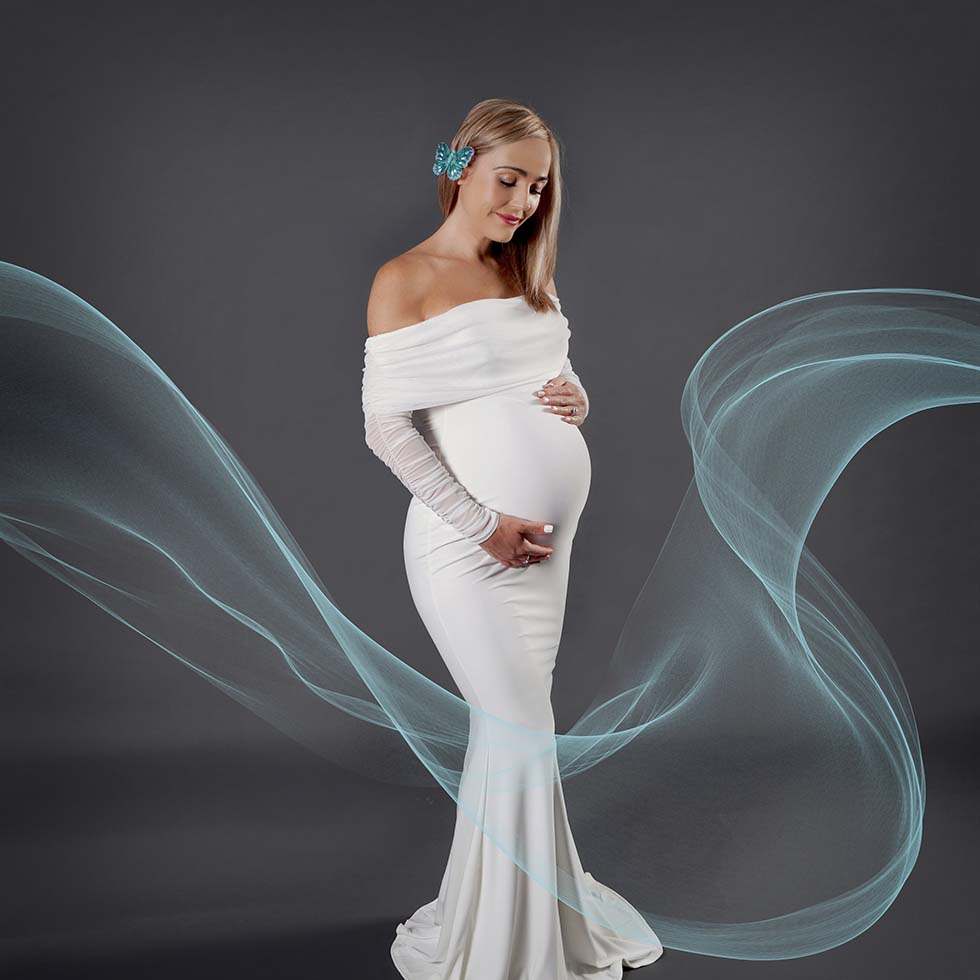 PREGNANCY / BABY BUMP PHOTOGRAPHY
"Offering beautiful Natural and Creative Maternity/Pregnancy/Bump photography capturing this wonderful time in your life"
The best time frame for a Pregnancy/Maternity photo session is around 28 to 36 weeks of the pregnancy, expecting mothers can enjoy a photo shoot as long as they're not a little too close to their delivery dates and they can still move around with a growing baby bump.
Our Pregnancy/Maternity shoots can be all about you as the one with the 'bump' and / or family members can join in for a few shots too. We have props and gowns which we offer at no extra charge, and you are welcome to bring your own clothes and props too. We love the images which include the scan pic so always a good idea to bring one or 2 of these with you.
We offer the very natural maternity photography, just you and bump OR we can offer a more creative side with butterflies, billowing material and chiffon – examples of which are shown below in our image gallery.
We have created a very informal, warm and relaxed studio, where you will immediately feel at ease, and developed a 'friendly' photo session that will almost distract you from the camera and flash lights.
You can book one of our package as detailed below or you can let us know what you'd like and we can price this for you. You can order additional images once you've seen all your images if you wish and you can request to see the prices for these prior to booking.
We offer albums, photo books, canvases, blocks, folios – if you would like more info on any of these, please get in touch.
Following your photo session with Shy Violet Photography, a Gallery of images will be online for 3 weeks on our Customer Only GALLERY website where you will be able to view your images in the privacy of your own home, and as many times as you like.
If you would like to book with us OR would you like us to quote on your own ideas for a bespoke package, please call or email Gaynor, or you can fill in our contact form.
'HYNOBIRTHING'
Shy Violet Photography has partnered with Cath Hepworth from Evincotherapy to introduce Hypnobirthing.
Cath is a highly experienced and qualified hypnotherapist. She loves to help couples have the best birth experience possible by empowering them and teaching them how to use hypnosis and visualisation over 5 bespoke fun sessions in the comfort of their own homes.
Visit www.evincotherapy.com.
Digital and Keepsake Album package options shown below. 
For Prints and Wall Art please request prices.
​
DIGITAL PACKAGE OPTIONS
5 Fully Edited, high resolution digital images
1 hour photoshoot:       £199
10 Fully Edited, high resolution digital images
1.5 hour photoshoot:    £299
15 Fully Edited, high resolution digital images
2 hour photoshoot:    £399
KEEPSAKE ALBUM PACKAGE OPTIONS
12 Fully edited, high resolution digital images
An individually designed, hand crafted luxury mini album  (5x5") containing all 12 images:  £449
15 Fully edited, high resolution digital images
An individually designed, hand crafted luxury album  (8x8") containing all 15 images:  £549
Canvas / Framing / Keepsake Album samples available in the studio.
All packages include props as supplied by the photographer and can include family and sibling shots.
Additional products can be added to any of the above packages.
A deposit of £49 is payable on booking as your deposit, with the balance of your chosen package payable on the day of your photoshoot.
Personalised Gift Vouchers are available.
Payment plans are available - please contact us for more information.
A FEW OF OUR TESTIMONIALS…

I honestly had the best afternoon last Saturday and I can't stop talking about it. It was so nice to be heavily pregnant, get glammed up and spend an afternoon being made to feel pampered and special by such a fabulous lady/photographer. The whole experience was just amazing and the pictures … I can't even put into words how epic they are. Every pregnant woman needs to experience a bump photo shoot with Gaynor.

I was very nervous on arrival, but Gaynor put me almost immediately at ease. We had coffee and a chat prior to the shoot and we put together ideas so that we knew exactly what shots we'd be taking. Gaynor is very creative and the images are just beautiful and I couldn't be happier with the results.

I took my 9 year old daughter along for moral support and to be included in the images. Gaynor came up with the most wonderful ideas for both of us and the pictures are amazing. Highly recommend this photo shoot.

Gaynor is absolutely fabulous! Had the best afternoon having a maternity/bump photoshoot. She made me and my husband feel so comfortable and at ease and her studio is beautiful. We cannot wait to see the photos as the glimpses Gaynor gave us during the shoot looked amazing. Very high recommend.
Professional Photographer, Oldham, Greater Manchester
ARRANGE A PHOTO SESSION
To book your photo package please get in touch using the information below, or complete the enquiry form - we'll need a contact number please just incase our reply by email goes into your junk folder.
Call: 07810 533533 or 01457 878689