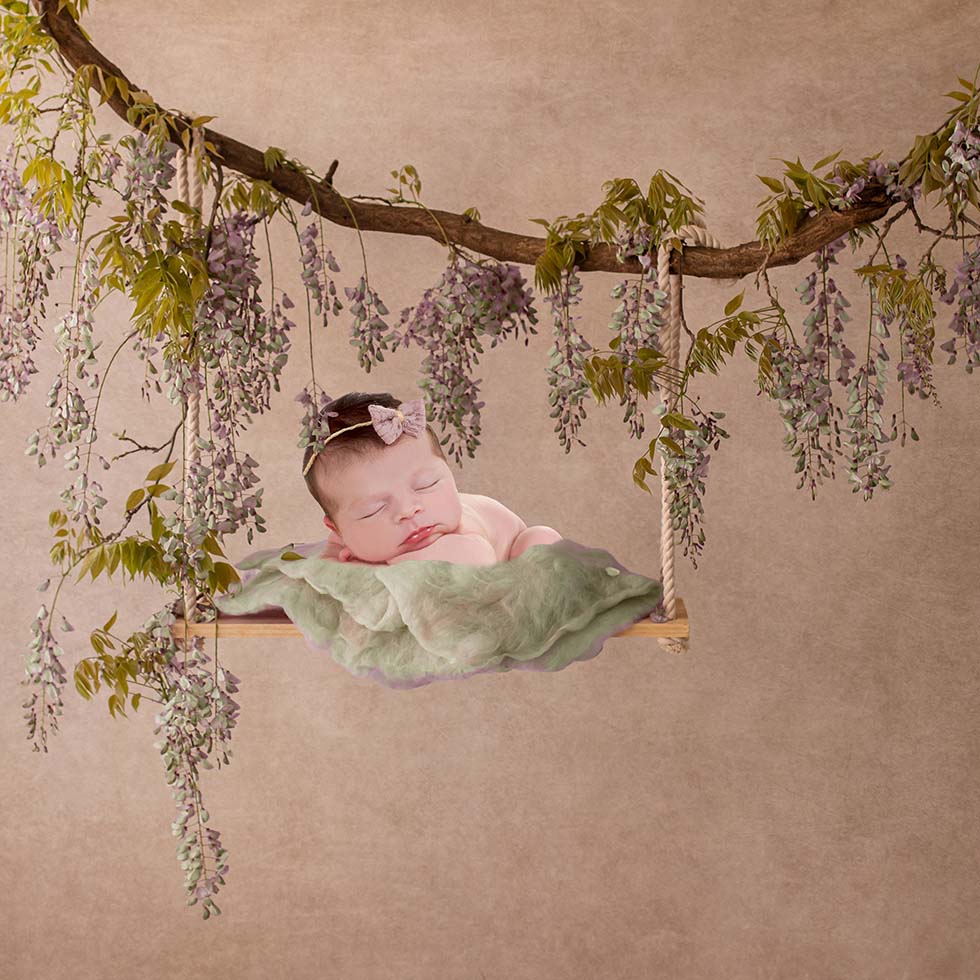 NEWBORN BABY PHOTOSHOOTS
Suitable for Newborns from 5 days to 4 weeks
"Offering beautiful, natural and creative newborn photography capturing those very precious early days"
The birth of your newborn baby is such a very wonderful time in your life … let us help you capture those very precious early days.  Our favourite time to capture your newborn is between 6 and 12 days … and up to 4 weeks.
We offer both the very natural curled up, sleepy shots, together with the more creative element to newborn photography using our beautiful props and Newborn Digital Art images, some of which can be seen below.  ALL Props and Outfits are provided and included in all package options.
If you have not yet had your baby … we would recommend booking a date around your due date. This can be changed if necessary once your little bundle of joy arrives.
Newborn photography sessions are up to 2 – 3 hours allowing for feeding, soothing and cuddles throughout.
We realise how very precious your newborn baby is to you and we take the greatest care during the session, and ensure that the studio is kept lovely and warm. ALL sessions can include sibling and family shots, and package prices (as shown below) include as many props as you like and all editing/retouching required. We discuss in full your requirements at the start of your session.
Following your photo session with Shy Violet Photography, a Gallery of images will be online for 3 weeks on our Customer Only GALLERY website where you will be able to view your images in the privacy of your own home, and as many times as you like.
If you would like us to quote on your own ideas for a bespoke package, please call or email Gaynor, or you can fill in our contact form.
'HYNOBIRTHING'
Shy Violet Photography has partnered with Cath Hepworth from Evincotherapy to introduce Hypnobirthing.
Cath is a highly experienced and qualified hypnotherapist. She loves to help couples have the best birth experience possible by empowering them and teaching them how to use hypnosis and visualisation over 5 bespoke fun sessions in the comfort of their own homes.
Visit www.evincotherapy.com.
We offer a range of package options, allowing you to choose the perfect way to display your photographs.
DIGITAL PACKAGE OPTIONS
5 Fully Edited, high resolution digital images
2 hour photoshoot:       £199
10 Fully Edited, high resolution digital images
2 hour photoshoot:    £299
15 Fully Edited, high resolution digital images
3 hour photoshoot:    £399
PRINT PACKAGE OPTIONS
Beautiful mounted prints in presentation box

2 hour photoshoot & 6 Fully edited, high resolution digital images
and matching mounted prints:   £299
3 hour photoshoot & 12 Fully edited, high resolution digital images
and matching mounted prints:   £449
WALL ART PACKAGE OPTIONS
10 Fully edited, high resolution digital images
And your favourite as a framed 24x20" in our hand-finished frame:  £559
OR
Your favourite as a luxury boxed canvas:  £599
OR
Your 4 favourite images as a Multi-Aperture frame 20x20":  £649
KEEPSAKE ALBUM PACKAGE OPTIONS
12 Fully edited, high resolution digital images
An individually designed, hand crafted luxury album  (8x8") containing all 12 images:  £549
20 Fully edited, high resolution digital images / 10 of these as 7x5" Prints
An individually designed, hand crafted luxury album  (10x10") containing all 20 images:  £699


Canvas / Framing / Keepsake Album samples available in the studio.
All packages include props as supplied by the photographer and can include family and sibling shots.
Additional products can be added to any of the above packages.
A deposit of £59 is payable on booking as your deposit, with the balance of your chosen package payable on the day of your photoshoot.
Personalised Gift Vouchers are available.
Payment plans are available - please contact us for more information.
A FEW OF OUR TESTIMONIALS…

We booked in for a newborn photo shoot for my baby girl when she was 10 days old, and took our 7 year old to join in. Gaynor did an amazing job on the day, it was a lovely relaxed atmosphere and nothing was rushed. Lots of great ideas and outfits were tried on, and the end pictures blew us away, they're absolutely amazing, we love them. I can't recommend Gaynor enough, I'm sure we'll be back for more photo's in the future!

Thanks Gaynor for such a fab day, you were amazing with Maisie for her newborn shoot! We can't wait to see the prints and will be defo coming back for smash the cake!!

Can't thank Gaynor enough for my newborn photo shoot! She was absolutely brilliant with my little girl, extremely patient. It took us about an hour and a half to get my daughter to sleep ready for her shoot, but I didn't feel rushed in any way whatsoever. The communication regarding when my order would be ready was fab and I am in love with my canvas – such great quality. I would definitely recommend Shy Violet Photography
Professional Newborn Photographer, Oldham, Greater Manchester
ARRANGE A PHOTO SESSION
To book your photo package please get in touch using the information below, or complete the enquiry form - we'll need a contact number please just incase our reply by email goes into your junk folder.
Call: 07810 533533 or 01457 878689