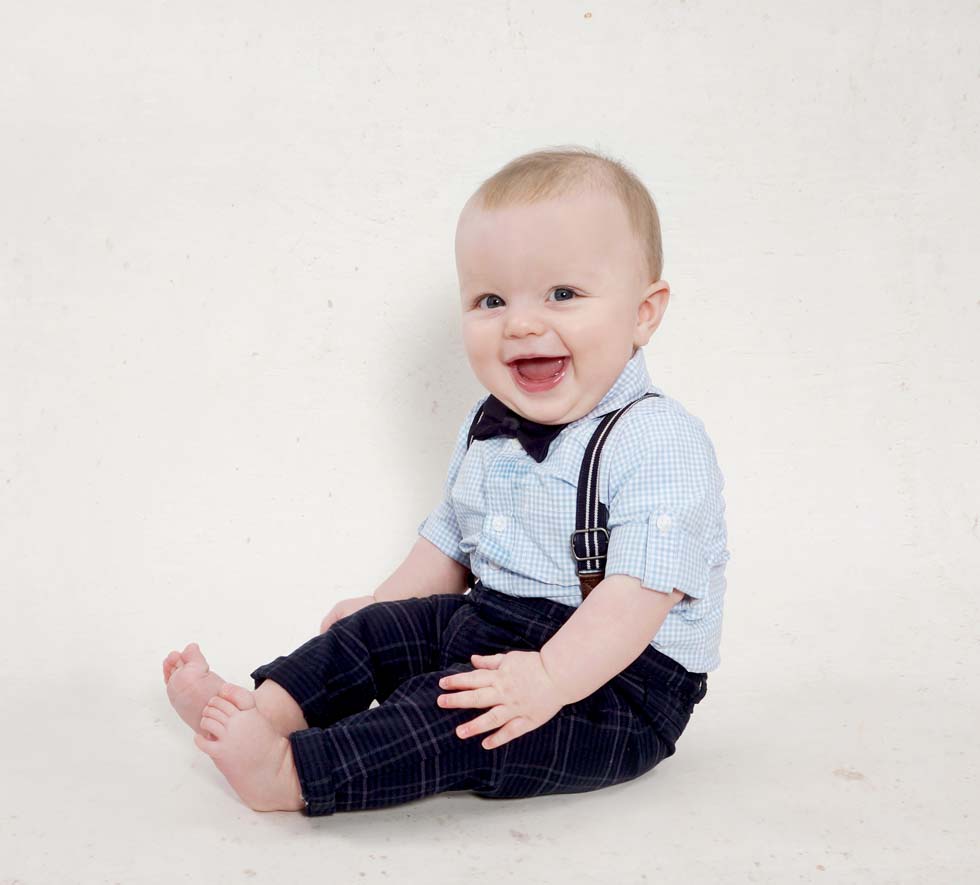 BABY PHOTOSHOOTS
"Baby photography, carried out with a fun & creative flare"
We have created a very informal, warm and relaxed studio – it's very light, airy and colourful, with soft toys everywhere so that you and your baby will feel immediately at ease. Before your photo session starts, time is given to allow your baby to get used to the new surroundings, and perhaps give him or her a feed if required.
Our Baby Photo Sessions suit babies from the age of 3 months and up… and can be done on various coloured backdrops/ with various props (we are introducing new colours and themes all the time). Each photo session can include a combination of colours or a Bubbles session or a Little Mister/Miss Vintage session. Our gallery of images below show various colours and ideas and themes.
There is nothing more to pay if you book one of our sale packages – prices shown below. You can order additional images once you've seen all your images if you wish and you can request to see the prices for these prior to booking.
We offer albums, photo books, canvases, blocks, folios – if you would like more info on any of these, please get in touch.
Following your photo session with Shy Violet Photography, a Gallery of images will be online for 3 weeks on our Customer Only GALLERY website where you will be able to view your images in the privacy of your own home, and as many times as you like.
If you would like to book with us OR would you like us to quote on your own ideas for a bespoke package, please call or email Gaynor, or you can fill in our contact form.
ENJOY HUGE SAVINGS IN OUR CURRENT SALE
Photo Package A Includes:
One Hour Photo Session
2 x 16×12″ Prints
4 x 8×10″ Prints
AND THESE SAME 6 Images on a Disc, sold sized and copyright free
SALE PRICE: £149.00
Photo Package B Includes:
One Hour Photo Session
1 x 20×16″ Print
2 x 8×10″ Prints
AND 6 DIGITAL images on a disc sold copyright free
SALE PRICE: £199.00
Photo Package C Includes:
One Hour Photo Session
Luxury Boxed Canvas at 24″
AND 12 DIGITAL images on a disc sold copyright free
SALE PRICE: £349.00
All images within each package can be different pics.
Or you can just book your Baby Photo Session for £39 and create your own package once all your images are viewed and your favourites chosen. A Print Price List and Canvas Price List can be provided on request.
If you would like info on our 'Watch Me Grow' Package from Newborn to the age of '1' please contact us for a price.
Personalised Gift Vouchers are available for any amount.
We also provide a framing service, canvas printing, acrylic printing, block printing and other wall art options, please call or email us for more information.
A FEW OF OUR TESTIMONIALS…

We took my little girl to see Gaynor at the age of 3 months – she wasn't in a good mood at all and cried for so much of the session, so both my husband and I were stunned when we saw the beautiful images Gaynor had achieved. We have already booked in the Cake Smash with Gaynor for her 1st Birthday later this year.

Absolutely gorgeous photos of my 10 month old baby boy in the Vintage style that Gaynor offers – we were so spoiled for choice in our gallery of images that it took us ages to decide. Gaynor was so patient in the photo shoot with Oscar and also with us when we took so long to choose. Would definitely recommend Gaynor's photography to anyone looking for baby photos.

We had no idea what we wanted, we just knew we wanted baby photos. Gaynor suggested we do a combination shoot and we chose a baby portrait session followed by a bubbles in a tub session – which Alfie just loved. We got some great photos and look at them all fondly now they are on our walls.
Professional Baby Photographer, Oldham, Greater Manchester
ARRANGE A PHOTO SESSION
To book your photo package please get in touch using the information below, or complete the enquiry form - we'll need a contact number please just incase our reply by email goes into your junk folder.
Call: 07810 533533 or 01457 878689