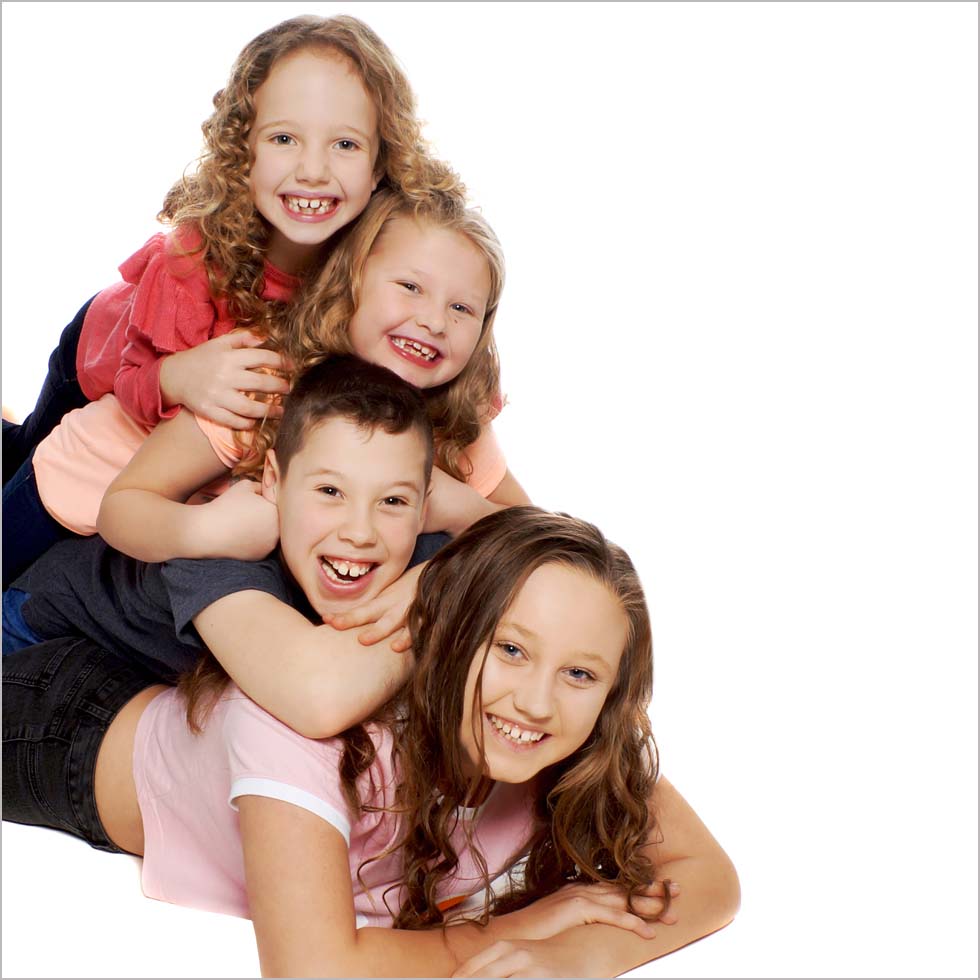 FAMILY, BABY & TODDLER PORTRAIT PHOTOGRAPHY PRESTON
"All with a fun & creative flare"
We have created a very informal, warm and relaxed studio, where you and your family will immediately feel at ease, and developed a family 'friendly' photo session that will almost distract you from the camera and flash lights.
With Gaynor's reputation for excellence and her passion for people, you will be amazed at how many family photographs you will love from your photo shoot.
We are happy to offer a Combination Photo Shoot, where we can incorporate Studio and Outdoor shots in the woodland and fields on our premises (weather permitting).
OR combine a family photo session with a Fun 'Bubbles' session or Little Mister/Miss Vintage for your babies/children – this can be discussed at the start of your session or you can ask us for more details prior to booking.
There is nothing more to pay if you book one of our sale packages – prices shown below. You can order additional images once you've seen all your images if you wish and you can request to see the prices for these prior to booking.
We also offer our unique 'Painting by Magic' concept, where your children look like they are painting their favourite things: All photography is done in the studio and your image is then created in our digital darkroom – examples are shown below. These are NOT included in any of the packages shown below – you need to ask us for prices please.
We offer albums, photo books, canvases, blocks, folios – if you would like more info on any of these, please get in touch.
Following your photo session with Shy Violet Photography, a Gallery of images will be online for 3 weeks on our Customer Only GALLERY website where you will be able to view your images in the privacy of your own home, and as many times as you like.
If you would like us to quote on your own ideas for a bespoke package, please call or email Gaynor, or you can fill in our contact form on this page.
ENJOY HUGE SAVINGS IN OUR CURRENT SALE
Photo Package A Includes:
1 Hour Photoshoot
6 Fully Edited, high resolution images
Supplied as 2 x 16×12" and 4 x 8×10" Unframed Prints
And these same 6 images on a disc or digital download
SALE PRICE: £199.00
Photo Package B Includes:
1.5 Hour Photoshoot
DIGITAL ONLY PACKAGE
10 Fully edited, high resolution images
Supplied digitally on a disc or download link
SALE PRICE: £249.00
Photo Package C Includes:
1.5 Hour Photoshoot
10 Fully edited, high resolution images
Supplied digitally on a disc or download link and as 10 x 7x5" Prints
And your favourite image sized 16x12" framed in our hand finished 'contemporary' frame (Available in a choice of colours)
SALE PRICE: £399.00
Photo Package D Includes:
1.5 Hour Photoshoot
12 Fully edited, high resolution images supplied digitally on a disc or download link
And your favourite image sized 24x20" framed in our 'art deco' frame
(Available in a choice of colours)
Plus Deluxe Photo Mini Book with all 12 images sized 6x4"
SALE PRICE: £499.00
Weekly Special Offers On in addition to packages above, please enquire on booking.
Framing samples available in the studio.
All packages include props as supplied by the photographer and can include family and sibling shots.
If you would like a price for a bespoke package, please contact us with you requirements and we can price for you.
Photobooks, Canvases, and Many Framing options available – prices on request.
A deposit of £39 is payable on booking as your deposit, with the balance of your chosen package payable on the day of your photoshoot.
Personalised Gift Vouchers are available.Payment plans are available - please contact us for more information.
A FEW OF OUR TESTIMONIALS…

Been to see gaynor at shy violet 3 times now, such a fun laid back photoshoot with amazing pictures to show at the end cannot recommend enough

Fantastic service! This lady knows how to get a smile and takes beautiful photographs. She makes you feel so comfortable and adapts to any situation... nothing is forced and we all enjoyed it. Thanks

Such an amazing lady. I have three very mischievious boys and a baby and i was dreading it to be honest but Gaynor made us feel at ease and didn't mind that my boys were not in particularly good moods that day. Laughed it off in the end! And then baby Mias cake smash was just wonderful! Had fun laughed smashed cake whats not to love about that!
Would highly recommend Gaynor to everyone.
ARRANGE A PHOTO SESSION
To book your photo package please get in touch using the information below, or complete the enquiry form – we'll need a contact number please just incase our reply by email goes into your junk folder.
Call: 07810 533533 or 01457 878689
Family, Baby & Toddler Portrait Photography Preston